Freehouse
Right at the middle of downtown is Freehouse, a bar opened in 2016 that "was birthed from a thirst that could only be quenched by good beer and cider". With up to 16 rotating taps of craft beer (they're usually almost at full capacity), you can be sure that you'll only be thirsty for that guy/girl down the bar 😉 Situated in a shophouse in the Telok Ayer area, its intimate settings ensures you that there's definitely "no strangers here".
Week of the Dog at Freehouse
Yo Dawg, so I heard it's the Year of the Dog, so Freehouse's got some (hot)dogs at the week of the dog, so you can dog while you dawg!
Just over the last week, while basically half of the bars you frequent were closed over the Chinese New Year week, Freehouse started the year of the dog with a week long event starring their very own bar manager, Christian!
The Week of the Dog featured a special event-only menu made of gourmet sausages, corn dogs and more importantly (to me), TATER TOTS "smothered in homemade meat/beach chilli! With Christian in the kitchen (no sandwiches today), we devoured most of the brutally-named menu, such as the Brat-tallica, a Bratwurst topped with home-made braised red cabbage, Sauerkraut, Bacon, Hefeweizen Cheese Sauce, Spicy Mustard and Devil's Ketchup; or if you're in camp Dave Mustaine, there's The Megadeth Corn Dog, that's dipped in a special honey-infused buttermilk batter and deep fried to golden glory!
We also checked out good ol' Trogdor the Burninator, our favourite strong-armed winged beast represented with Tater Tots smothered in molten Cheddar Cheese (that's enough to make Torbjorn breathe heavily), Home Made Stout Bean/Meat Chilli, Srircha, Sour Cream and Devil's Ketchup. Beware of the fire-breathing dragon!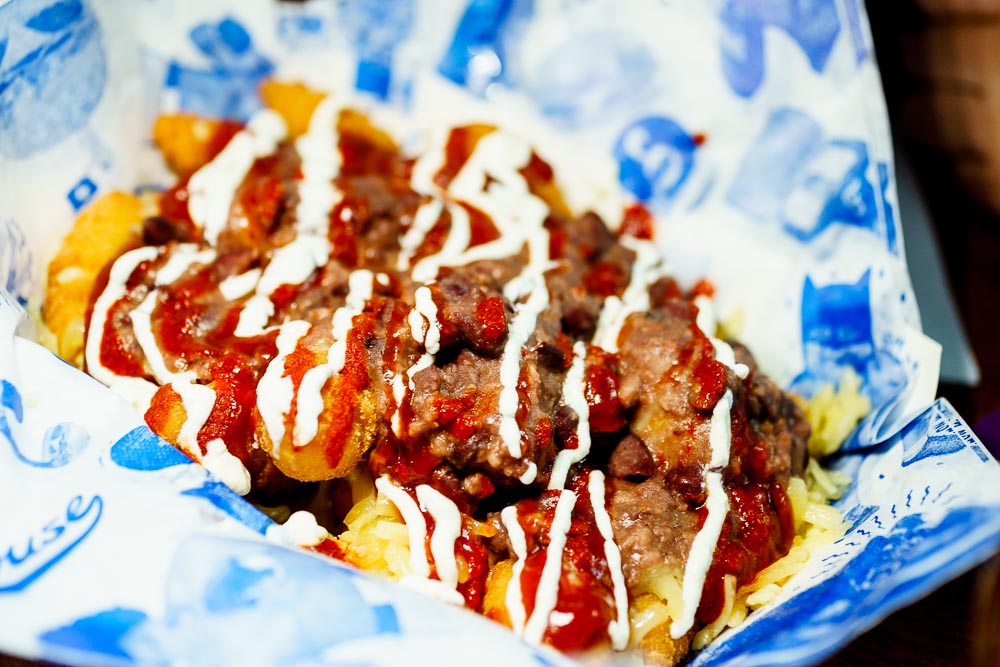 No Strangers Here
Beyond the special menu for the week, Freehouse also offers a pretty wide range of bar snacks and dinner items (they're usually not open for lunch). Favourites include the Cereal Frog Legs, Grilled Eggplant and Japanese Curry Fries just to name a few. Food menu may also change time to time, so find out the latest while you're there!
Of course being one of the increasingly popular craft beer bar in Singapore, Freehouse offers a rotating selection of delicious craft beer from around the world, as mentioned previously having a capacity of 16 taps in full view of their white tiled display wall. New and seasoned craft beer enthusiasts are more than welcome, as your friendly neighbourhood bar guy Christian will surely put the right beer in front of you. Events and tap takeovers from particular breweries (such as the recent Battle Royale of Vietnamese breweries Pasteur Street and Heart of Darkness) also happen regularly, so be sure to like their Facebook page to keep yourself updated. For a good deal, head down to their Pint & Grub Mondays, where any pint with a side from a selected list go for only $20++!
Verdict
hole-in-the-wall-ness:
Price:
Quality:
Overall:

More Information
Freehouse
21A Boon Tat Street
Singapore 069620
Email: info@freehouse.com.sg
Opening Hours: 5:00pm to 12:00am (Tuesdays to Saturdays), 3:00pm to 12:00am (Fridays only). CLOSED MONDAYS.
Facebook|Instagram|Website