A Dash of Szechwan
Chen Kentaro, Executive Chef of Shisen Hanten by Chen Kentaro—Singapore's highest Michelin-rated Chinese restaurant, draws on three generations of culinary heritage to complete his first English cookbook, A Dash of Szechwan.
The collection of 50 recipes, some of them never before shared family secrets, features Chef Kentaro's own take on family recipes and Shisen Hanten signatures. Also included are recipes originally developed by his grandfather, Chen Kenmin—lauded as the "Father of Szechwan cuisine" in Japan, and his father, Chen Kenichi—the renowned "Szechwan Sage" and longest-running Iron Chef Chinese. (For the uninformed, Iron Chef was, and still is, a popular cooking battle show with lots of theatrics in Japan, and is considered a pretty big deal to appear on it)
Recalling his inspiration for the cookbook, Chef Kentaro said,
"With A Dash of Szechwan, I hope to share my love of Szechwan cooking with a wider audience, and showcase that the flavours of the cuisine offer so much more than the piquancy it is more popularly known for. I am excited to have this opportunity of bringing my favourite recipes into everyone's kitchen."
In the book, Chef Kentaro takes readers on an easy-to-follow journey through the bold and versatile flavours of Szechwan cuisine. Stunning food photography fills the pages of the cookbook, and peppered throughout are useful tips and visual step-by-step guides on cooking and preparation techniques. He also adds personal background stories to the mouth-watering recipes, and dedicates a pictured glossary for easier reference of some of the more essential and commonly mistaken ingredients featured in the cookbook. He also includes recipes for stocks, sauces, and marinades that can be used for a great variety of dishes.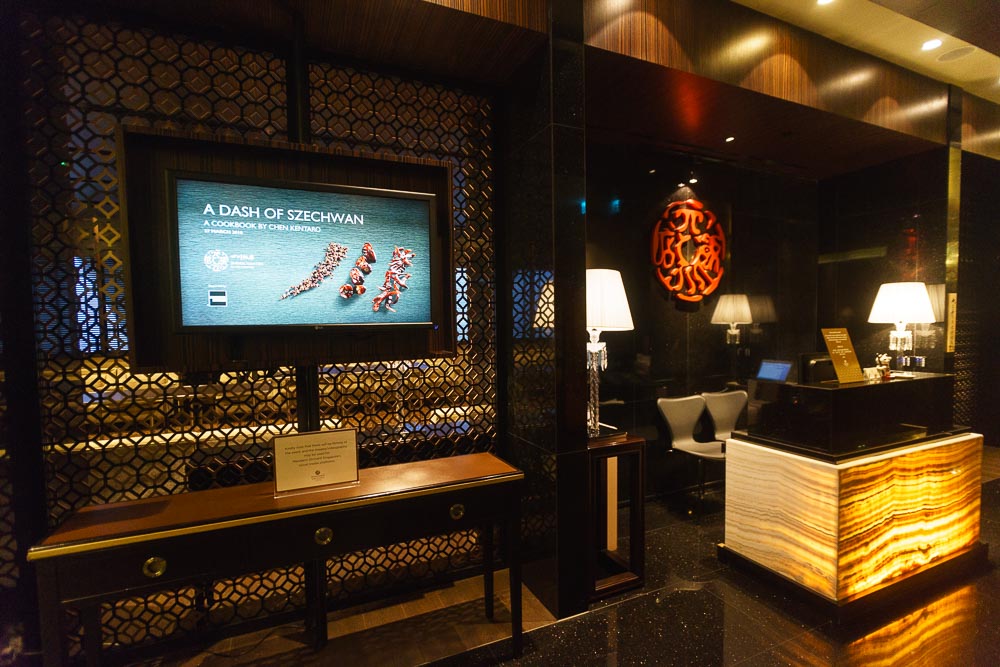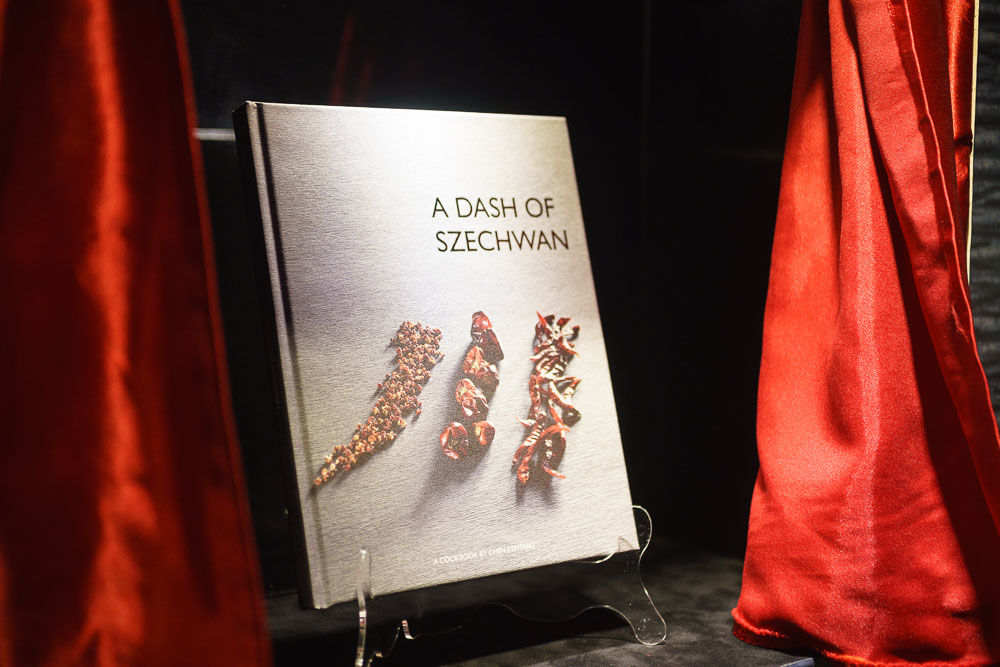 Book Launch Event at Shisen Hanten
After the official launch, we were treated to a selection of Chef Kentaro's signatures that are also featured in the book, from light starters like the Foie Gras Chawanmushi with Crab Roe Soup, to hearty and homely favourites like the Dan Dan Noodle (旦旦面) Soup, Stir-fried Lobster with Chilli Sauce and their now-gonna-be-famous Chen Family's Mapo Tofu (meat and vegetarian versions were both served, how you like it at home is totally up to you). In good Szechwan fashion, the cuisine had the perfect balance between the spice from the chilli and the savoury tastes of the other stars of the dish (read; umami). Of course it's up to you to up the ante on the spice either at the restaurant or at home. So fear not ketchup boys and girls!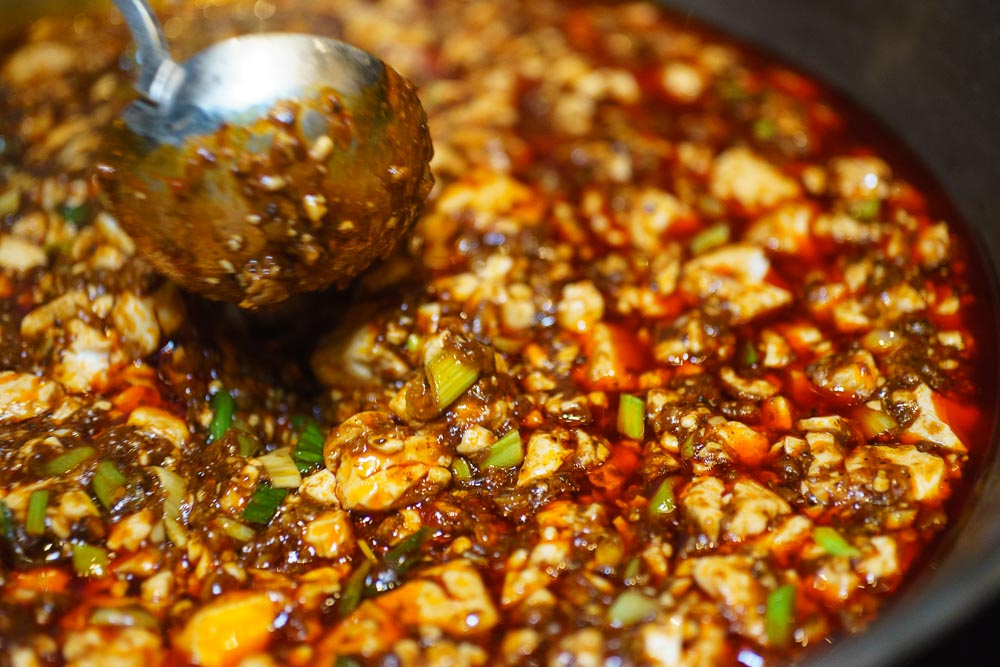 After the official book launch, the Chef 'challenged' us, the guests, to a cook-off a la Gordon Ramsay style. Our gusty volunteer, Bobby, put up a good showing as he was instructed back-facing Chef Kentaro to cook some stir-fried beef. Our judge even called it a tie! Maybe he was a secret Masterchef-level home cook, who knew?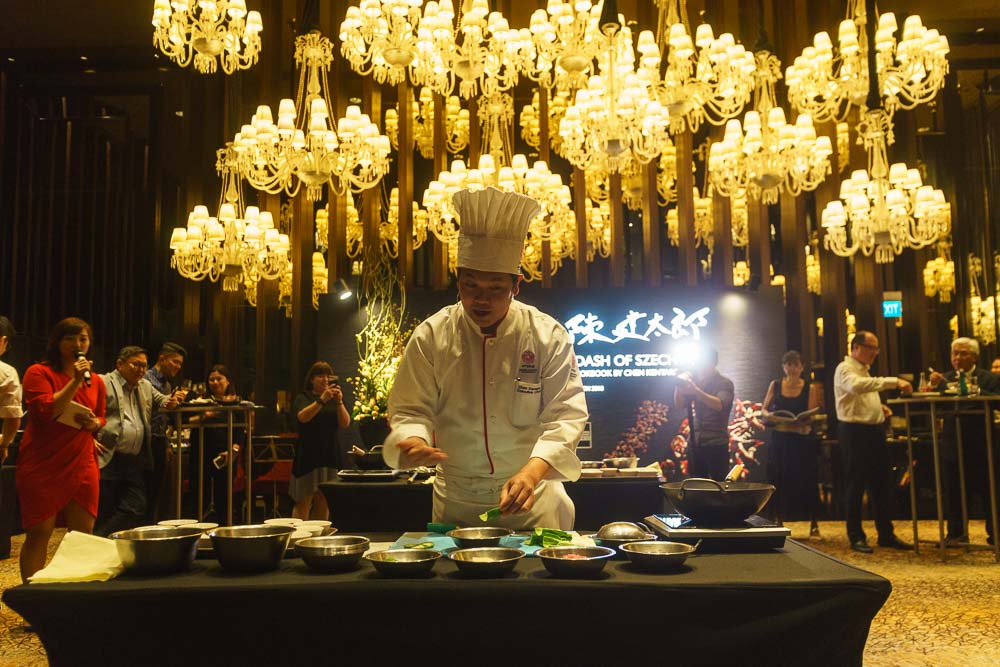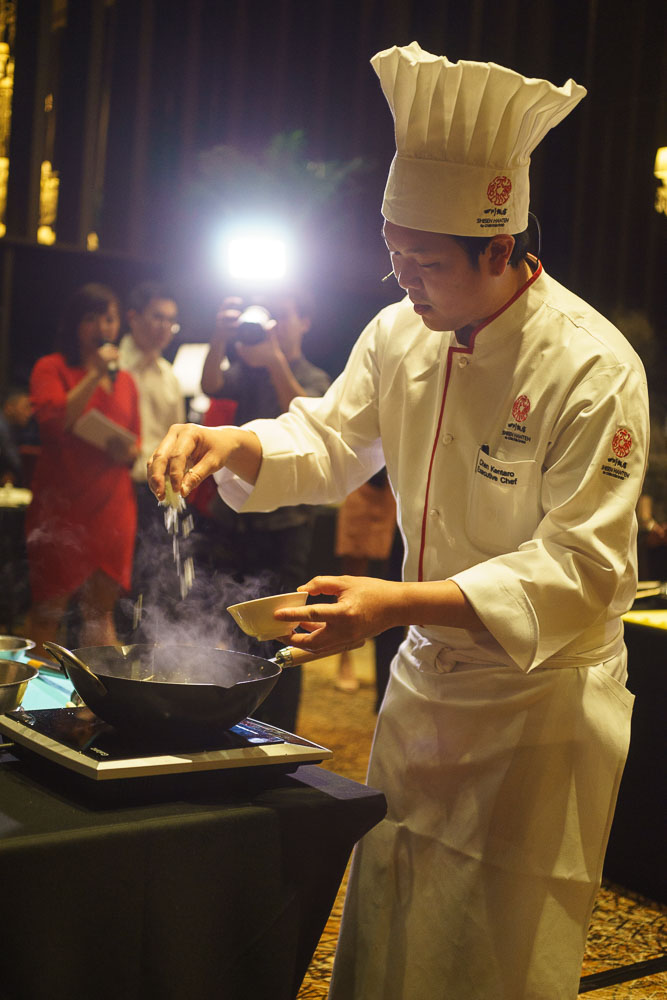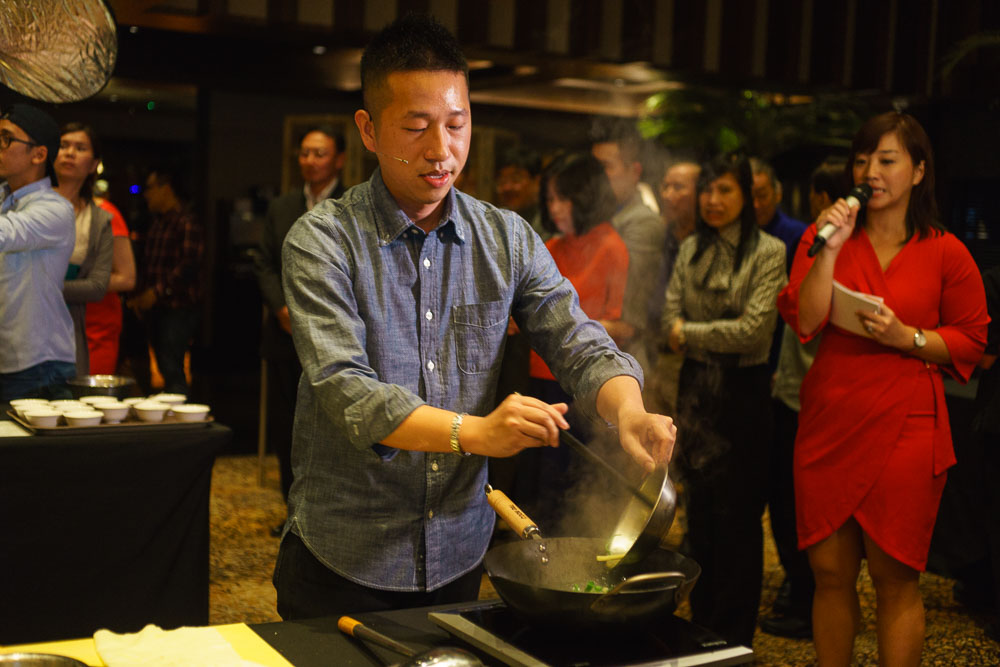 At the end we received a personalised signed copy of Chef Kentaro's book, together with some special gifts from Shisen Hanten and their partner, tea sellers Pryce Tea (more below). For more information on how to get your hands on limited editions of SIGNED COPIES of Chef Kentaro's cookbook, visit the restaurant or contact them with the details at the end of this article.
Shisen Hanten by Chef Kentaro
Started in 1958, Akasaka Szechwan Restaurant aka Shisen Hanten which it is popularly known in Japan, was the brainchild of Chen Kentaro's Grandfather Chen Kenmin which was then passed down to his Father Chen Kenichi. Regarded as Japan's "Father of Szechwan Cuisine", the eldest Chen envisioned the restaurant to "make Shisen Hanten customers truly appreciate Szechwan food through all the five senses." Through Kentaro's Father, Kenichi, the Shisen Hanten brand branched out across Japan, with 14 branches across 6 cities and now with it's first debut outside the country in sunny Singapore, where it is Kentaro's turn to continue their legacy and set the stage for global recognition of Japan's best loved Szechwan Restaurant. Indeed it is already Singapore's most decorated Michelin-rated Chinese restaurant (two-stars).
Shisen Hanten by Chen Kentaro celebrates the seven basic flavours of Szechwan cuisine: sour, pungent, hot, sweet, bitter, aromatic and salty. Highlights not to be missed include Chen's Mapo Doufu, Chen's Original Spicy Noodle Soup, Stewed Fish Fillet in Spicy Szechwan Chilli Pepper, and Deep-fried Chicken in Spicy Szechwan Chilli Pepper. Also available on the menu is a delicious selection of authentic Cantonese classics. Situated at level 35 or Mandarin Orchard, you can be sure of a good view too!
Pryce Tea
A quick feature on what I feel was a good selection of tea by the restaurant's partner Pryce Tea. Established by one of Singapore's oldest tea companies, Lim Lam Thye, Pryce Tea seeks to demystify the age-old perception that Chinese teas are only enjoyed during elaborate tea ceremonies, to bring you wonderful epicurean blends that embody oriental finery with modern simplicity.
We were treated to a display of a small part of their big collection of teas, such as the Cocoon Night, with decaffeinated Oolong tea leaves and Australian Eucalyptus and French Lavender which promises a good end to a busy day, and their aptly-flavoured Peppy Day, which is blended with Szechuan Peppers to give it a good oomph to pep up your day. Check out their website here!
More Information
Shisen Hanten
Level 35 Orchard Wing
Mandarin Orchard Singapore
333 Orchard Road
Singapore 238867
Phone: 68316262 / 68316266
Email: shisenhanten.orchard@meritushotels.com
Facebook | Website